Coombabahs' local snake catchers and reptile relocators.
Due to the abundance of wetland and woodland habitats, snakes are a common backyard visitor in the Coombabah area. There have been reports of both venomous and nonvenomous snakes in the area, with the most common being the Red Bellied Black Snake, Common Tree Snake, Carpet Pythons, and Eastern Brown Snakes. Coombabah, however, is not limited to these snakes, with approximately 16 different snake species previously recorded nearby. Homes near conservation parks and nature strips should expect higher densities of reptiles, but they are not limited to these areas, with individuals frequently wandering into more suburban landscapes as well.
If you discover a snake at your home or business, we have a Coombabah snake catcher ready to help you right away.
The services carried out by our Coombabah snake catcher include 24hr snake relocations, roof and property inspections and reptile awareness consultations. To get in contact with your local Coombabah snake catcher contact us on 0423 866 017. We are local to the area and can respond quickly and affordably to all of your reptile relocation needs 24 hours a day, seven days a week.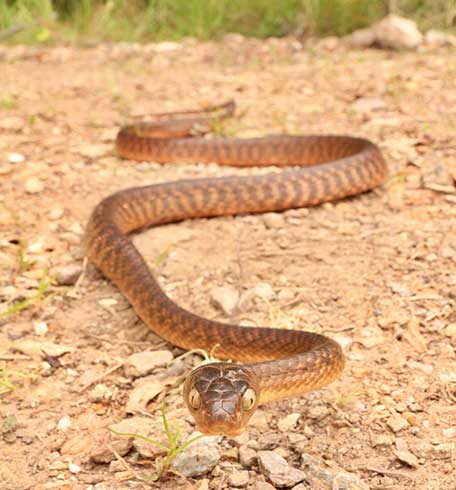 Servicing Coombabah and Surrounding Areas
Easy payment options. Upfront pricing.
Rapid response.
We'll be there before you know it!
Open 24 Hours a day – 7 days a week.
Cheapest snake catcher on the Gold Coast.
Fully licensed & insured. Friendly, reliable service.
Need a Coombabah Snake Catcher NOW?

About Us
South East Reptile Relocations' experienced team guarantees you a professional and comprehensive service while maintaining a high level of safety on your premises. Furthermore, we value education as an important aspect of our service and strive to provide our clients with useful information, advice, and tips about snake awareness that they can use in the future.
All actions undertaken on behalf of South East Reptile Relocations have been approved by the Queensland Department of Environment and Heritage Protection, and are carried out by appropriately licenced, trained, and insured consultants.
South East Reptile Relocations is a locally based reptile relocation service owned and operated by licensed Coombabah snake catcher Mitch Thorburn. Mitch has many years of experience in the industry and is authorised by the Queensland Government to capture and relocate protected reptiles.
South East Reptile Relocations
Coombabah Snake Catcher
Contact Us
0423 866 017
24 Hours / 7 Days
ABN 57 943 983 661