Mudgeeraba is surrounded by native reserves and agricultural land, which support a diverse range of reptiles, including venomous snakes. Coastal Carpet Pythons, Keelback Snakes, and Eastern Brown Snakes are the most commonly encountered species in the area, but our Mudgeeraba snake catcher has recorded a total of 19 snake species in the past. Snakes will do their best to stay out of our way, but it is unavoidable that they will occasionally find themselves in situations where they may pose a threat to humans, pets, or themselves. Mudgeeraba's snake catchers have you covered in these situations.
Our Mudgeeraba snake catchers have extensive experience in the safe capture and relocation of all reptiles including both venomous and nonvenomous snakes, goannas and turtles. We strive to provide the fastest and most comprehensive assistance 24 hours a day to anyone within the wider Gold Coast & Logan area.
Our extensive industry experience enables us to confidently and thoroughly carry out our snake relocation and inspection services to the highest standard whilst ensuring the complete safety of our team, clients and the reptiles we relocate. Furthermore, we see education as an essential aspect of our service and strive to leave our clients with constructive information, advice and tips regarding snake awareness which we hope will come in useful in the future. Since we are located nearby we are able to reach our Mudgeeraba clients in the shortest amount of time and at very affordable pricing. Our Mudgeeraba snake catchers can be contacted on 0423 866 017 and are available 24 hours a day, 7 days a week for anybody within the Mudgeeraba area who may require assistance with unwelcome or problematic reptiles.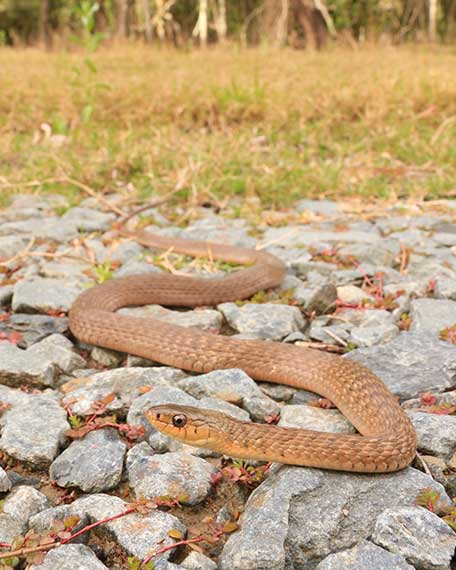 Servicing Mudgeeraba and Surrounding Suburbs
Easy payment options. Upfront pricing.
Rapid response.
We'll be there before you know it!
Open 24 Hours a day – 7 days a week.
Cheapest snake catcher on the Gold Coast.
Fully licensed & insured. Friendly, reliable service.
Need a Mudgeeraba Snake Catcher NOW?

Our Services
The services carried out by our local Mudgeeraba snake catcher include 24hr snake relocations, roof and property inspections and reptile awareness consultations. All actions completed on behalf of South East Reptile Relocations have been approved by the Queensland Department of Environment and Heritage Protection and are carried out by appropriately licensed, trained and insured consultants.

Our native reptiles play essential roles within natural ecosystems and are protected under the Nature Conservation Act 1992. At no stage do we support the unlawful interference or harming of any fauna species. Attempting to interfere with or bring harm to protected wildlife is exceedingly dangerous and carries heavy penalties within the state of Queensland. Do the right thing and call a professional snake catcher.
For more information on the reptile species local to the Mudgeeraba area feel free to check out our snake and lizard identification pages.

South East Reptile Relocations
Mudgeeraba Snake Catcher
Contact Us
0423 866 017
24 Hours / 7 Days
ABN 57 943 983 661