If you require assistance with a snake at your home or business in Merrimac our snake catchers are available to assist you now.

Our Merrimac snake catchers are well-versed in snake identification as well as the safe relocation of all reptile species, including venomous and non-venomous snakes, goannas, and turtles. We're an experienced team guaranteeing you a professional and comprehensive service whilst always ensuring that a high level of safety is maintained at your home or business. Additionally, we aspire to promote a healthier understanding of reptile behaviours and how to mitigate dangerous interactions with them in the future.

Our location allows us to reach our Merrimac clients quickly and offer more competitive rates. To request a free quote from our Merrimac snake catcher contact us now on 0423 866 017. We're always happy to answer any questions and provide identifications over the phone. Our services are available 24hours a day, 7 days a week including public holidays.
The services carried out by the Merrimac snake catcher include 24 hour snake relocations, property & roof inspections and reptile awareness consultations. All actions completed on behalf of SERR have been approved by the Queensland Department of Environment and Heritage Protection and are carried out by appropriately licensed, trained and insured consultants.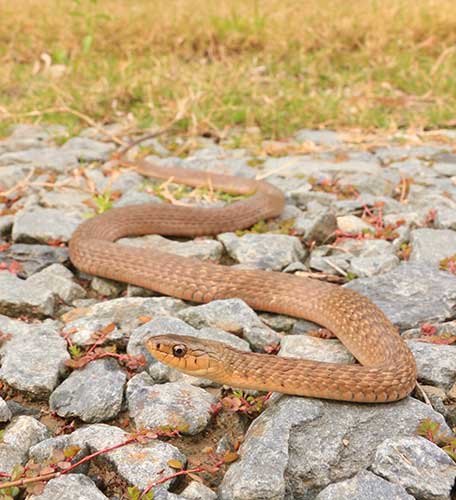 Servicing Merrimac and Surrounding Suburbs
Easy payment options. Upfront pricing.
Rapid response.
We'll be there before you know it!
Open 24 Hours a day – 7 days a week.
Cheapest snake catcher on the Gold Coast.
Fully licensed & insured. Friendly, reliable service.
Need a Merrimac Snake Catcher NOW?

Local Species
Merrimac is home to roughly 18 species of both nonvenomous and venomous snakes. Common Tree Snakes, Red Bellied Black Snakes and Marsh Snakes are some of the most frequently encountered in and around premises however various other less frequently encountered species have been relocated by our Merrimac snake catchers in the past.

For more information on the reptile species local to the Merrimac area feel free to check out our snake and lizard identification pages on our website.

For all non-immediate enquiries you may also contact us via email at southeastreptilerelocations@outlook.com and we'll get back to you as soon as we can.

South East Reptile Relocations
Merrimac Snake Catcher
Contact Us
0423 866 017
24 Hours / 7 Days
ABN 57 943 983 661